Rhona O'Connell
Head of Market Analysis, EMEA & Asia; 
+44 203 580 6115; mobile +44 7384 833 897
The Fed October/November meeting; outcome much as expected.  Not even thinking about rate cuts.
Positive equities reaction; gold spikes quickly down then rebounds
The comments from some Fed Committee members on the run-up to this most recent meeting were foreshadowing the outcome – i.e. that the rise in bond yields since April have helped to alleviate any pressure to raise fed funds target rates further.  The December meeting (12-13th) will carry the dot plot and it will be interesting to see if there is any material change from that of September, in which there was a massive range of target fed funds expectations for end 2024 – from 4.25% to 6.25%, while the range for end-2025 was even wider (2.75% to 5.75%).
Fed Dot Plot, September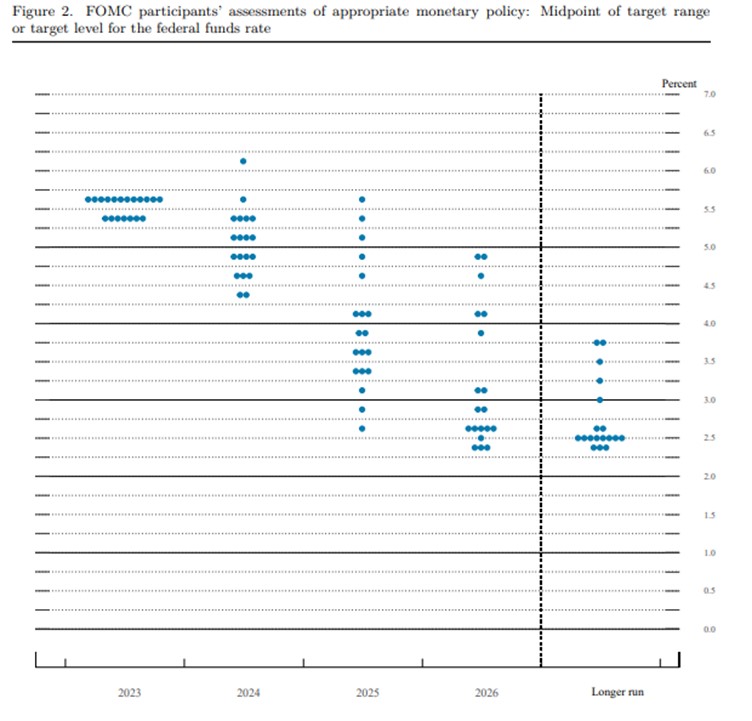 Source: Federal Reserve Board
This meeting's statement was barely different from the September iteration, apart from "Job gains have moderated since earlier in the year but remain strong, and the unemployment rate has remained low" compared with "Job gains have slowed in recent months but remain strong, and the unemployment rate has remained low"; if anything this month's comment is slightly more aggressive than the previous, but the difference is minimal.  And that was it.  The Committee will continue to look at the cumulative effect of recent policy, and stands prepared to adjust when and if necessary.
In his Press conference Jay Powell reiterated that without price stability the economy does not work for anyone, that a strong and stable labour market would not be viable; and that the full effects of the tightening have yet to be felt.  Future decisions about the extent of future firming and the duration of its restrictive nature will remain data-dependent. 
Ten year bond yields rose from 3.3% in early April to 5.0% in mid-October; latest at 4.7%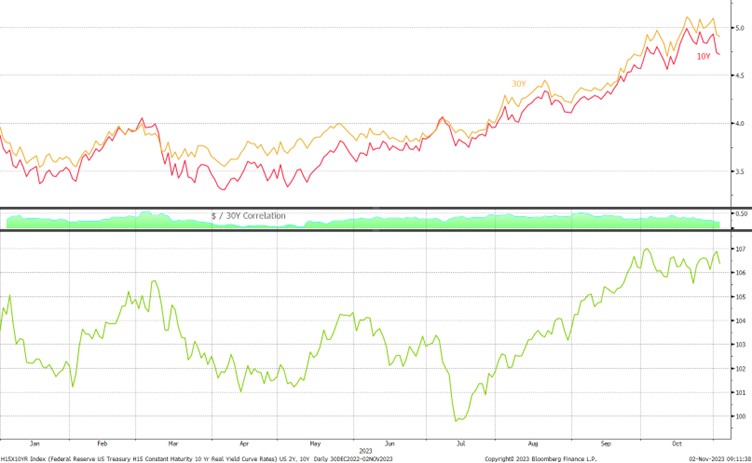 Source: Bloomberg, StoneX
Consumer spending is leading to a forecast Q3 GDP of 4.7%, the housing market is flattening and the supply and demand sides of the labour market are moving towards balance; nominal wage growth has shown some signs of easing and while the jobs:workers gap has slowed, labour supply continues to exceed available jobs.  The Core PCE is now at 3.7% and while inflation readings are moderating there is still a long way to go.
Asked about the extent to which the rise in long-term bond yields had influenced this meeting's decision, he set the scene in the context of the economy and said that the Committee is not yet confident that it has done enough to achieve the longer-term 2% inflation target.  He said that current influences including higher rates, and the stronger dollar and lower equity prices could matter for future rate decisions provided that two conditions are satisfied: a) tighter conditions would need to be persistent; and b) higher longer-term rates must not simply be an anticipation of tighter monetary policy.  That said, he noted that the current bond market position does not appear to be a reflection of monetary policy expectations, but in the meantime the impact of higher rates on economic activity is perhaps the "most important thing". 
The Committee is not thinking about rate cuts at all.  The first question, still being addressed, is "have we achieved a stance of monetary policy that is sufficiently restrictive to bring inflation down to 2% sustainably over time".
The next major question will be "for how long will policy remain restrictive?" to which the answer is "as long as necessary to be confident that inflation is on a sustainable path down to 2%".
They do not yet have that confidence.  Rate cuts are not on the table, as a viable positive answer to that first question is the key.
Higher for longer.
The StoneX Group Inc. group of companies provides financial services worldwide through its subsidiaries, including physical commodities, securities, exchange-traded and over-the-counter derivatives, risk management, global payments and foreign exchange products in accordance with applicable law in the jurisdictions where services are provided. References to over-the-counter ("OTC") products or swaps are made on behalf of StoneX Markets LLC ("SXM"), a member of the National Futures Association ("NFA") and provisionally registered with the U.S. Commodity Futures Trading Commission ("CFTC") as a swap dealer. SXM's products are designed only for individuals or firms who qualify under CFTC rules as an 'Eligible Contract Participant' ("ECP") and who have been accepted as customers of SXM. StoneX Financial Inc. ("SFI") is a member of FINRA/NFA/SIPC and registered with the MSRB. SFI is registered with the U.S. Securities and Exchange Commission ("SEC") as a Broker-Dealer and with the CFTC as a Futures Commission Merchant and Commodity Trading Adviser. References to securities trading are made on behalf of the BD Division of SFI and are intended only for an audience of institutional clients as defined by FINRA Rule 4512(c). References to exchange-traded futures and options are made on behalf of the FCM Division of SFI . StoneX is a trading name of StoneX Financial Ltd ("SFL"). SFL is registered in England and Wales, Company No. 5616586. SFL is authorized and regulated by the Financial Conduct Authority [FRN 446717] to provide to professional and eligible customers including: arrangement, execution and, where required, clearing derivative transactions in exchange traded futures and options. SFL is also authorised to engage in the arrangement and execution of transactions in certain OTC products, certain securities trading, precious metals trading and payment services to eligible customers. SFL is authorised & regulated by the Financial Conduct Authority under the Payment Services Regulations 2017 for the provision of payment services. SFL is a category 1 ring-dealing member of the London Metal Exchange. In addition SFL also engages in other physically delivered commodities business and other general business activities which are unregulated and not required to be authorised by the Financial Conduct Authority. StoneX Group Inc. acts as agent for SFL in New York with respect to its payments services business. StoneX APAC Pte. Ltd. acts as agent for SFL in Singapore with respect to its payments services business. 'StoneX' is the trade name used by StoneX Group Inc. and all its associated entities and subsidiaries.



Trading swaps and over-the-counter derivatives, exchange-traded derivatives and options and securities involves substantial risk and is not suitable for all investors. Past performance of any futures or option is not indicative of future success. Indicators are not a trading system and are not published as a specific trade recommendation. The information herein is not a recommendation to trade nor investment research or an offer to buy or sell any derivative or security. It does not take into account your particular investment objectives, financial situation or needs and does not create a binding obligation on any of the StoneX group of companies to enter into any transaction with you. You are advised to perform an independent investigation of any transaction to determine whether any transaction is suitable for you. No part of this material may be copied, photocopied or duplicated in any form by any means or redistributed without the prior written consent of StoneX Group Inc.



© 2023 StoneX Group Inc. All Rights Reserved.
Discover more insights
Our subscribers have access to comprehensive market analysis from StoneX spanning commodities, equities, currencies and more.