Base Metals Struggle to Hold onto Optimism in Morning Trading Upon Weaker Than Expected Chinese PMI Readings
YTD Price Performance of Bloomberg Commodities by Sector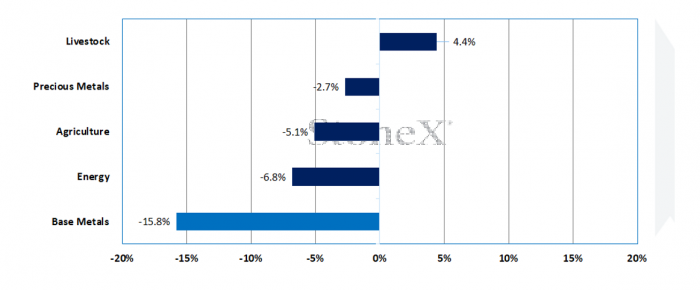 Note: Bloomberg Base Metals is Bloomberg Industrial Metals Subindex composed of futures contracts on aluminium, copper, nickel and zinc. Source: Bloomberg, StoneX
The base metals are on track to be the worst performing commodity sector in 2023, which if it occurs, would mark a second consecutive year that the suite holds this position. Given that prices over the last 18-month have largely been dominated by macro forces (something we forecast to remain in place in the near-term), understanding global macro drivers will be central in forecasting future price performance. To gain more insight on this, please register for our next webinar "LME Week:  What Did We Learn" on Thursday 2nd November at 15:00 London Time. 
October Manufacturing PMI Falls Back into Contractionary Territory – More Than Just Seasonal Influence
This morning (31st October), China released its PMI readings, which came in below market expectations, adding to bearish sentiment towards the suite in the near-term. PMI readings in China usually act as a barometer of what we can expect from other key economic readings over the previous month. 
The Details: 
•    Headline manufacturing fell into contractionary territory (49.5) in October, having only briefly posted above the all-important 50 level in September. Prior to this, manufacturing in China has been unable to enter expansionary since March 2023.
•    Production in October fell from its highest level in six months to 50.9, although managed to remain in expansionary territory for a fifth month. 
•    Meanwhile, new orders (a proxy for domestic demand) slipped into contractionary territory in October at 49.5, while new export orders also declined, falling to 46.8 (near its lowest level this year). 
•    In addition to this, readings across the board for small, medium and large sized firms weakened, with both small and medium sized companies holding below 50 for seven consecutive months.
PMI Manufacturing Readings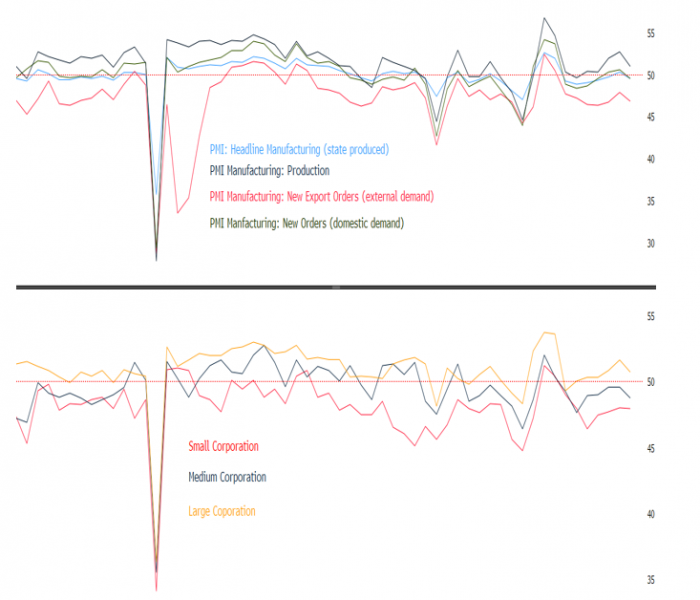 Source: Bloomberg
Even though we were forecasting a modest weakening M/M within the PMI readings (given that October seasonally records a downturn, due to less spending compared to the summer months), the pace of declines has surprised the market to the downside. Indeed, the October versus September pull back for all three headline PMI readings has outpaced that of declines seen over 2020-2022 period and of pre-COVID, highlighting the gravity of issues China is facing in its recovery from declining exports, struggling property market and record low confidence. 
Headline PMI Readings - October Versus September Change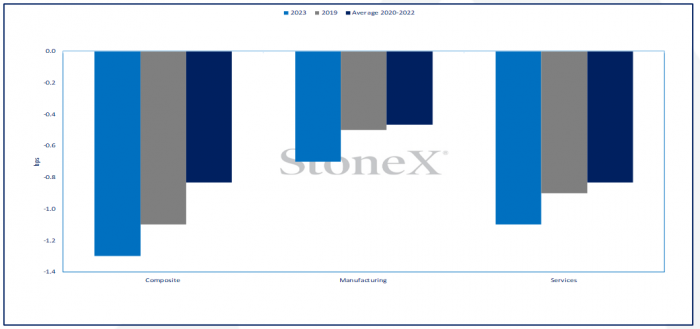 Source: Bloomberg
Service Readings Similarly Slip Across the Board, Although Construction is Underpinned by Fiscal Stimulus with Infrastructure Offsetting Property Weakness
Non-Manufacturing PMI Readings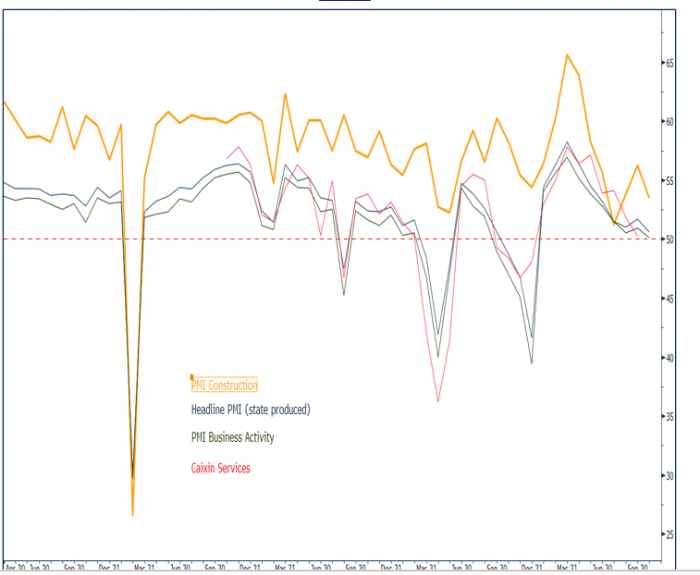 Source: Bloomberg
Non-manufacturing figures also declined in October, with the headline reading falling to 50.6 from 51.7 in September, below expectations of 52.0. Here, we believe that ongoing declines within the property market are capping activity, although the surprise move by the Government to increase the fiscal budget this year should help offset losses, boosting infrastructure activity (with the construction PMI remaining robust over much of this year).  
Global Comparison of Manufacturing PMI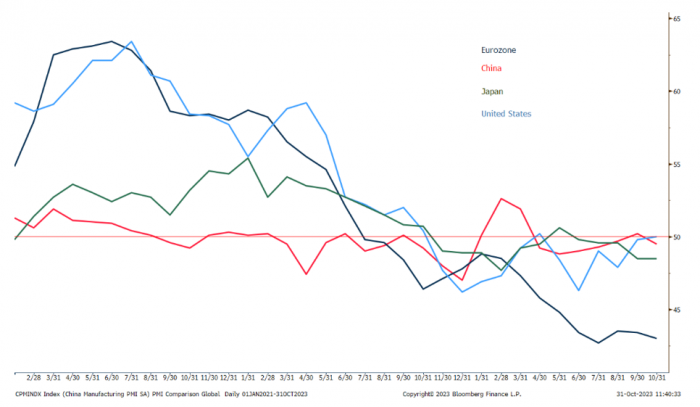 Source: Bloomberg
Global Comparison of Non-Manufacturing PMI
Source: Bloomberg
Our View
Based on seasonality patterns alone, we expect PMI readings to recover over the final two months of the year however, given the weaker than expected outcome of the October numbers, the outlook has dampened somewhat. Here, leading headwinds from the property sector and reality of depressed demand ex-China (due to a tighter credit environment) is likely to continue to weigh on recovery, although the most recent move to increase the fiscal budget should help offset some of the weakness. 
On 25th September, China's Ministry of Finance and National Development and Reform Commission pulled the trigger to increase the annual fiscal budget to 3.8% of GDP (or $4.88T yuan, $667Bn) from 3.0% set previously in the Two Sessions meeting in March. Please note, the last time a budget was changed mid-year was in 2008. As it stands, upon the issuance of 1Tr yuan in sovereign bonds, local Governments will be aided to fund construction and infrastructure projects. 
 
The StoneX Group Inc. group of companies provides financial services worldwide through its subsidiaries, including physical commodities, securities, exchange-traded and over-the-counter derivatives, risk management, global payments and foreign exchange products in accordance with applicable law in the jurisdictions where services are provided. References to over-the-counter ("OTC") products or swaps are made on behalf of StoneX Markets LLC ("SXM"), a member of the National Futures Association ("NFA") and provisionally registered with the U.S. Commodity Futures Trading Commission ("CFTC") as a swap dealer. SXM's products are designed only for individuals or firms who qualify under CFTC rules as an 'Eligible Contract Participant' ("ECP") and who have been accepted as customers of SXM. StoneX Financial Inc. ("SFI") is a member of FINRA/NFA/SIPC and registered with the MSRB. SFI is registered with the U.S. Securities and Exchange Commission ("SEC") as a Broker-Dealer and with the CFTC as a Futures Commission Merchant and Commodity Trading Adviser. References to securities trading are made on behalf of the BD Division of SFI and are intended only for an audience of institutional clients as defined by FINRA Rule 4512(c). References to exchange-traded futures and options are made on behalf of the FCM Division of SFI . StoneX is a trading name of StoneX Financial Ltd ("SFL"). SFL is registered in England and Wales, Company No. 5616586. SFL is authorized and regulated by the Financial Conduct Authority [FRN 446717] to provide to professional and eligible customers including: arrangement, execution and, where required, clearing derivative transactions in exchange traded futures and options. SFL is also authorised to engage in the arrangement and execution of transactions in certain OTC products, certain securities trading, precious metals trading and payment services to eligible customers. SFL is authorised & regulated by the Financial Conduct Authority under the Payment Services Regulations 2017 for the provision of payment services. SFL is a category 1 ring-dealing member of the London Metal Exchange. In addition SFL also engages in other physically delivered commodities business and other general business activities which are unregulated and not required to be authorised by the Financial Conduct Authority. StoneX Group Inc. acts as agent for SFL in New York with respect to its payments services business. StoneX APAC Pte. Ltd. acts as agent for SFL in Singapore with respect to its payments services business. 'StoneX' is the trade name used by StoneX Group Inc. and all its associated entities and subsidiaries.



Trading swaps and over-the-counter derivatives, exchange-traded derivatives and options and securities involves substantial risk and is not suitable for all investors. Past performance of any futures or option is not indicative of future success. Indicators are not a trading system and are not published as a specific trade recommendation. The information herein is not a recommendation to trade nor investment research or an offer to buy or sell any derivative or security. It does not take into account your particular investment objectives, financial situation or needs and does not create a binding obligation on any of the StoneX group of companies to enter into any transaction with you. You are advised to perform an independent investigation of any transaction to determine whether any transaction is suitable for you. No part of this material may be copied, photocopied or duplicated in any form by any means or redistributed without the prior written consent of StoneX Group Inc.



© 2023 StoneX Group Inc. All Rights Reserved.
Discover more insights
Our subscribers have access to comprehensive market analysis from StoneX spanning commodities, equities, currencies and more.