We connect clients to markets

StoneX Group Inc. (NASDAQ: SNEX) is an institutional-grade financial services franchise, offering advanced digital platforms, end-to-end clearing and execution services and global market expertise to our clients worldwide.
Tailored financial solutions.
One trusted partner.
Get the competitive edge you need in the financial markets with access to our full suite of services.
Risk management

Work with our experienced advisors to help mitigate operational and financial risk for your business.

Physical commodities

We combine deep market expertise and risk management analysis to help clients increase profitability.

Sales & trading

We provide low-touch electronic execution, post-trade settlement and clearing for equities, derivatives and fixed income.

Clearing & custody

We pair our international clearing and custody services with best-in-class support to provide tailored solutions for our clients.
Capital markets & advisory

Partner with StoneX Capital Markets for financing, funding and liquidity solutions to meet your growth targets.

OTC trading

Experience more customized hedging options with StoneX's broad range of OTC products.

Payments

Experience competitive pricing and guaranteed delivery when transferring funds worldwide with StoneX.

Retail trading & services

Access equities and FX trading, as well as physical investment in precious metals and wealth management services.
Personalize your experience
I am
a grain company/cooperative

an energy producer / manufacturer

an endowment or charity foundation fund manager
and would like more information on:
A century of putting our clients first
At StoneX, we live and breathe the markets we serve. Our unrivaled advantage of putting our firsthand market knowledge to work – what we call "boots on the ground" – enables us to connect our clients to the solutions they need to succeed in today's competitive financial markets.
Our clients' stories
The most important part of our business is building lasting relationships with our clients. Explore their stories below.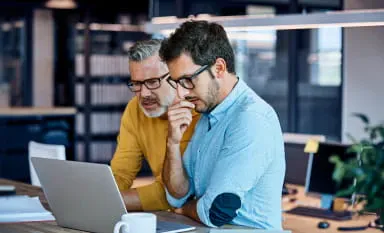 Payments client
"Working with StoneX is a seamless process. My team can go in, initiate transfers, request quotes to see what kind of rate we're going to get, and we know that the money will be there in 72 hours, tops."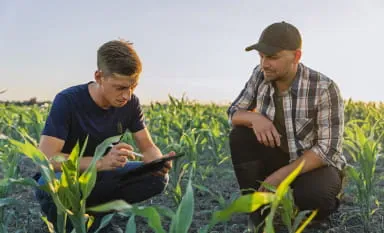 Grain farmer
"We have increased our efficiency over 40% as it relates to comparing the StoneX process to the paper-based and spreadsheet-based system we had before."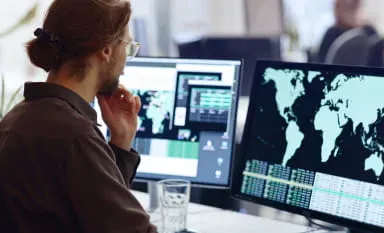 Risk management and commodities client
"StoneX really understands our business. They understand how we want to operate and what our risk profiles are, so they can ensure that we're doing what we need to be doing from a risk management perspective, and are using the right tools and offering the right products to our farmers to make sure that we're providing value to them."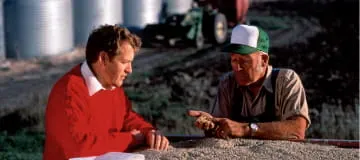 Grain farmer
"StoneX products are designed by the customer, for the customer. You can combine the infrastructure of StoneX and our global presence with a product that a customer helped design. You catch both sides of the desk and it's a really powerful tool."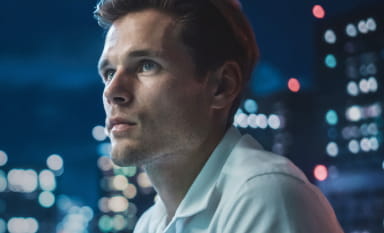 Payments client
"StoneX understands the market better because of the engagements that they have had with various players. They take time every year to visit accounts in the market and ask about market developments, and try to identify where the challenges are and fix them."
See why StoneX is a partner of choice
Have questions about our products or services? We're ready to help.
Make our expertise your edge with Market Intelligence
Stay one step ahead of the markets with deep data and incisive commentary from our award-winning traders and analysts across the globe. 
Extensive global market coverage
Access news, deep analysis and incisive commentary on securities, currencies, interest rates and virtually every publicly traded commodity.
---
Make informed decisions
Leverage actionable insights from our brokers and traders to enrich your strategy and give you a competitive edge.
---
Access insights from anywhere
Choose from our online platform, mobile app, or get analysis sent directly to your inbox.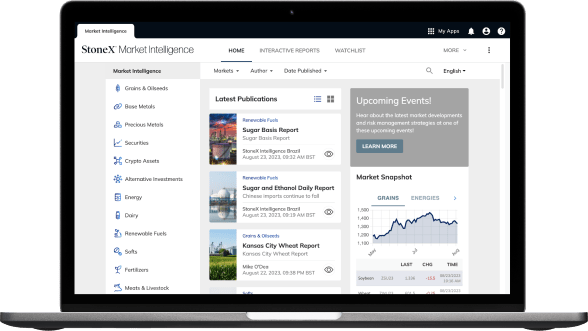 Let's get connected
To learn more about how our customized financial solutions can help you stay one step ahead in the global markets, contact our team today.
Contact us
If you're an existing customer, please direct any inquiries to your StoneX sales team.