Institutional client offerings and solutions

Providing institutional clients access to sales and trading expertise in global equities, fixed income and futures, extensive capital markets services, and robust multi-asset clearing and custody solutions.
We connect clients to markets
At StoneX, we provide our institutional clients with access to information, sophisticated products and efficient markets.
It's important to know the people you're trading with, and the values they stand for. At StoneX, we believe that transparency, education and clear communication create lasting relationships with our clients.
Our institutional clients
We provide global access, unparalleled insight and advanced expertise to help our institutional clients meet their financial goals.
Asset managers
Broker-dealers
Commercial bank trusts
Family offices
Financial institutions
Fund managers
Hedge funds
Insurance companies
Introducing broker dealers
Money managers
Pension funds
Professional traders
Wealth managers
Our securities offering
StoneX provides institutional clients with a complete suite of equity and fixed income trading services to help them find liquidity with best execution and end-to-end clearing.
Our prime brokerage offering
StoneX Prime provides hedge funds, family offices, mutual funds and other investment managers with a full self-clearing prime offering combined with introduced prime solutions.
Securities lending
We provide access to fully paid securities lending with competitive rates available through various clearing partners.
Custody solutions
We help manage multi-custodial risk and provide an enhanced reporting platform so that our clients can have efficient and easy access to manage their prime needs.
Repo and outsourced trading
StoneX Prime offers customized outsourced trading and operations solutions to help our clients control costs, optimize resources and access broad market expertise.
Debt Capital Markets
We provide a full range of services to clients of all sizes looking to raise capital through private credit, bond issuances, and other creative financing solutions.
Our FX trading and liquidity offering
We offer deep market access, advanced technology, customized FX solutions, and high-touch service to our clients.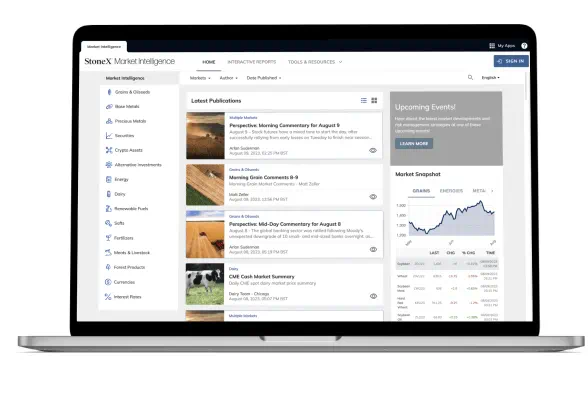 Market Intelligence
Make our expertise yours – receive daily deep data and incisive commentary you can only get from the expert traders and analysts across the StoneX Group's global network.
Pairing experience with expertise to position our clients for success
In 2021, StoneX worked with The GEO Group Inc. to underwrite a $230 million convertible bond new issue for the Boca Raton-based, publicly traded REIT. This engagement demonstrated the full breadth of our team's experience, our industry contacts, and our ability to distribute across our own client base – leveraging the capabilities and reach of our StoneX High Yield and Distressed teams in addition to our own.
Solutions
StoneX offers a wide variety of customized financial services to help you meet your strategic objectives.
Sales & trading

We provide low-touch electronic execution, post-trade settlement and clearing for equities, derivatives and fixed income.

Consulting and advisory

Learn how to mitigate risk, limit business uncertainty and boost margins with expert commodities consulting from StoneX.

Clearing & custody services

StoneX pairs international clearing and custody service with top-tier customer service to tailor solutions for a variety of correspondents.

Capital markets services

Top-tier banking expertise and global capabilities for sourcing capital and securing financing solutions.
Let's get connected
To learn more about how our customized financial solutions can help you stay one step ahead in the global markets, contact our team today.
Contact us
If you're an existing customer, please direct any inquiries to your StoneX sales team.
StoneX Financial Inc. ("SFI") is a member of FINRA/NFA/SIPC and registered with the MSRB. SFI is registered with the U.S. Securities and Exchange Commission ("SEC") as a Broker-Dealer and with the CFTC as a Futures Commission Merchant and Commodity Trading Advisor. References to securities trading and prime services are made on behalf of the BD Division of SFI. References to exchange-traded futures and options are made on behalf of the FCM Division of SFI. You can learn more about the background of StoneX Financial Inc. on BrokerCheck.
INTL Fillmore Advisors LLC ("IFA") provides Outsourced Trading Services. IFA is a member of FINRA/SIPC and NFA , and registered with the SEC as a Broker Dealer and CFTC. You can learn more about the background of INTL Fillmore Advisors LLC on BrokerCheck.
Wealth management services are offered through StoneX Wealth Management, a trade name used by SA Stone Wealth Management Inc., member FINRA/SIPC and SA Stone Investment Advisors Inc. SA Stone Wealth Management Inc. and SA Stone Investment Advisors Inc. are wholly owned subsidiaries of StoneX Group Inc. You can learn more about the background of SA Stone Wealth Management Inc. on BrokerCheck.
StoneX One is a proprietary online trading platform through which investors and traders can open securities and/or futures accounts. Accounts opened through StoneX One are currently available to U.S. persons only. Not all products are available. StoneX One accounts opened through SA Stone Wealth Management are introduced to and custodied at StoneX Financial Inc. (SFI), and all customer orders will be transmitted to SFI for execution, clearance and settlement.
Securities products offered by StoneX Financial Inc. ("SFI") & INTL Fillmore Advisors LLC ("IFA") are intended only for an audience of institutional clients only. Securities products offered by SA Stone Wealth Management Inc. and investment advisory services offered by SA Stone Investment Advisors Inc. are intended for an audience of retail clients only.
This information is not a recommendation to trade nor investment research or an offer to buy or sell any derivative or security. It does not take into account your particular investment objectives, financial situation or needs and does not create a binding obligation on any of the StoneX Group Inc. of companies to enter into any transaction with you. You are advised to perform an independent investigation of any transaction to determine whether any transaction is suitable for you.
Additional disclosures can be found on https://stonex.com/compliance-library/